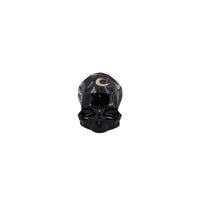 Free shipping on European and UK orders over €100
Art design by Erensu Ekmekçiler / Design Memento Mori by Ali Bakova
Taken from the NUDE Rock & Pop collection, this striking piece brings together expert craftsmanship, fearless creativity and a distinct wow factor. Crafted from faceted crystalline glass in a glossy black finish, the skull-shaped design belongs to our Memento Mori collection designed by Ali Bakova. Meanwhile, the intricate motif created by the Istanbul-based tattoo artist Erensu Ekmekçiler lends the dramatic silhouette a playful finishing touch. Designed with reference to Erensu's limited edition skull.
Height: 83 mm
Width: 80 mm
Depth: 105 mm
Material: Lead-free crystal

The mastery and craftsmanship of handmade glass is a signature of NUDE.
NUDE prides itself in its artisanal approach to glassware, specializing in handmade, pure crystalline glass, be the pieces blown or press-blown. With their Master blowers, NUDE continues to hand
make much of the world's most acclaimed glassware.
We recommend washing this product by hand using a soft sponge, brush or by hand.
Please avoid using the scourer side of the sponge as it will create scratching on the surface of the glass.
After hand washing, let the product dry. Finish cleaning by drying and polishing the product using a soft cloth, preferably microfiber.
Introducing
Erensu Ekmekçiler