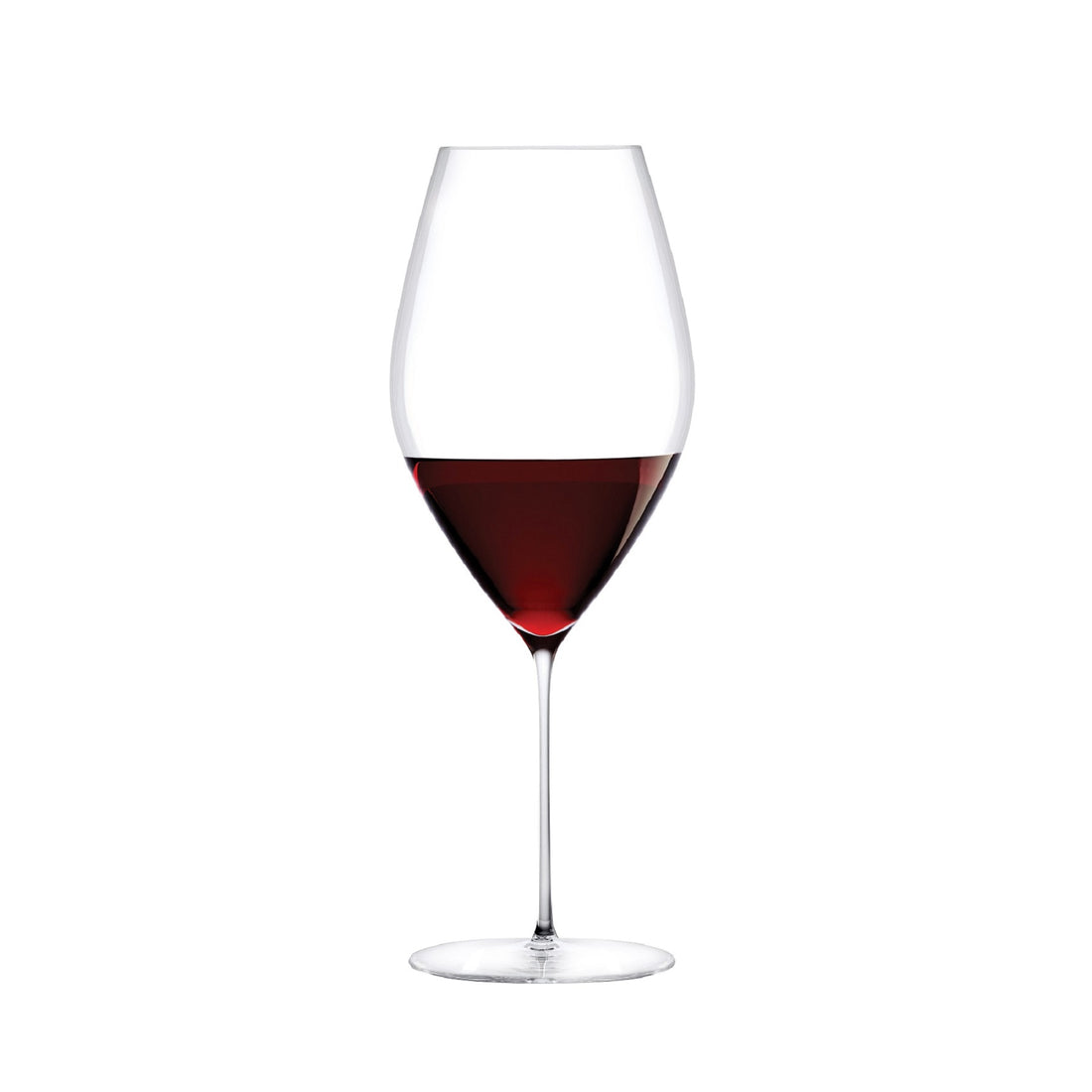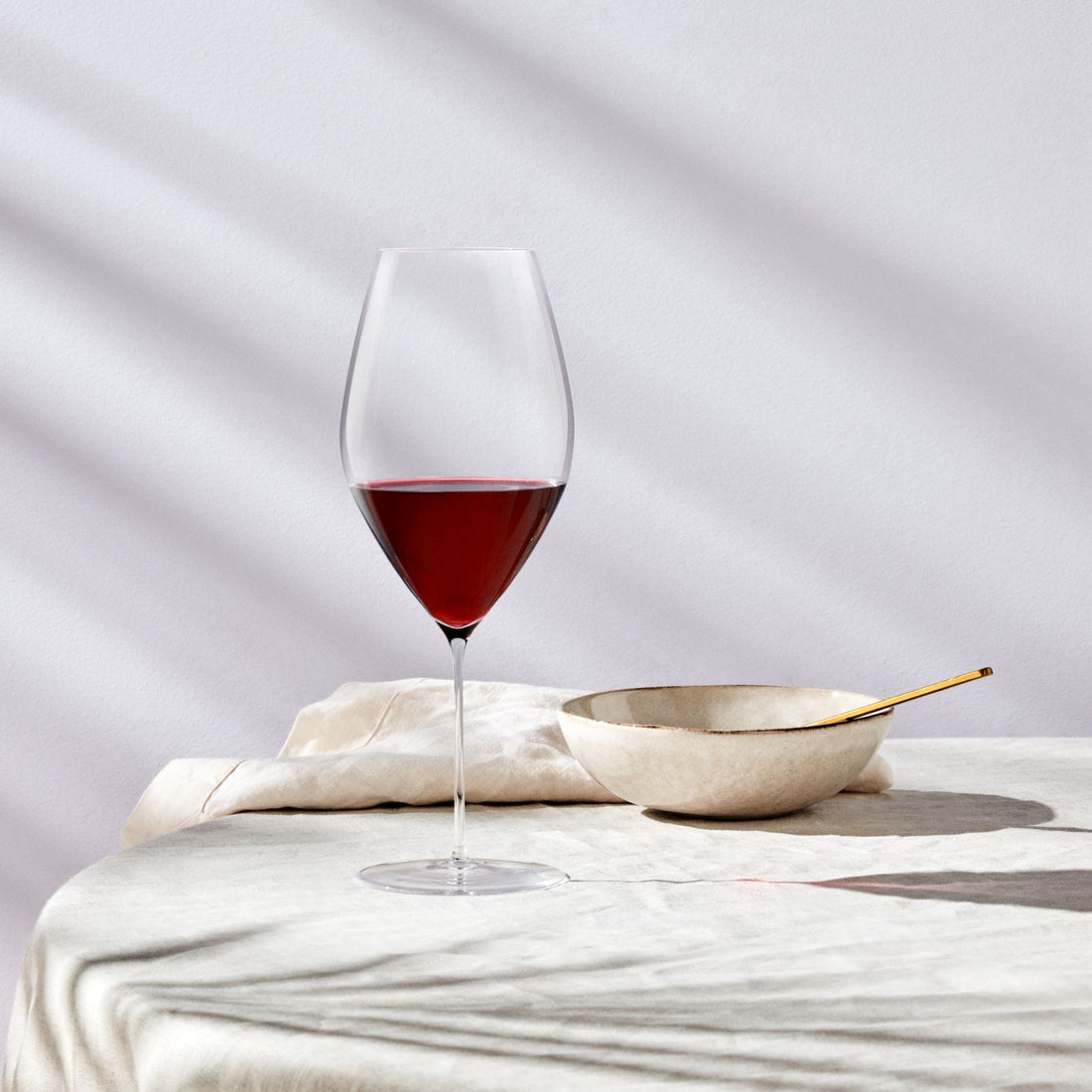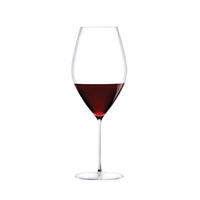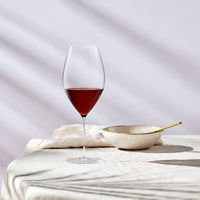 Free shipping on European and UK orders over €100
A tribute to the timeless style icon and her inherently chic sensibility, this NUDE Stem Zero Grace Red Wine glass is defined by the slender stem and curvaceous profile, expertly shaped by hand for maximum flavour enhancement. The unrivalled combination of the material's thinness, strength and clarity is a testament to NUDE's longstanding dedication to creating elevated glassware essentials.
The NUDE Stem Zero collection is the world's toughest, yet finest, lead-free crystal range — made using our 'Ion Shielding' Technology.
Capacity: 800 cc
Height: 270 mm
Diameter: 68 mm
Material: Lead-free crystal
The mastery and craftsmanship of handmade glass is a signature of NUDE.
NUDE prides itself in its artisanal approach to glassware, specializing in handmade, pure crystalline glass, be the pieces blown or press-blown. With their Master blowers, NUDE continues to hand
make much of the world's most acclaimed glassware.
By experimenting with strengthening techniques, NUDE has employed a special surface modification technology based on ion-exchange process which suppresses the micro-fissures that cause glass to crack.
 The larger ions, incorporated into the glass' surface structure by replacing the smaller ions, cause strains, form compressive stress and make the glasses more robust and more suitable for everyday use.
Dishwasher recommendations
Stem and Ghost Zero are suitable for the dish washer up to 2000 cycles.
We do recommend washing by hand as the result of the dish washer depends heavily on the correct amount of detergent used, the right hardness of water and the careful placement of the glassware in the dishwasher.
Glassware should not be placed together in the dishwasher with products made from wood, aluminium, copper, silver etc.
Hand wash recommendations
Avoid cleaning the glassware with bleach or acidic liquids and the use of scourer sponges as it will scratch the surface.
After handwashing let the product dry. Finish cleaning by drying and polishing the product using a soft cloth, preferably micro fiber.
For detailed advice on how to clean your Stem Zero and Ghost Zero product, visit our dedicated page.
Wine advice
BEST WINES TO PAIR WITH
Taking inspiration from a classic Bordeaux glass shape, the Red Wine Glass is ideal for full-bodied, strong intense red wines with its long, fine bowl designed to accentuate aroma and taste. Perfect for wines such as Cabernet Sauvignon, Cabernet Franc, Shiraz, Merlot, Tempranillo, Malbec, Zinfandel, Listrac, Moulis, Margaux, Fronsac, Médoc, Graves Rouge, Pauillac, Pomerol, Pessac Compatible with Leognan (Rouge), Bordeaux (White), Rioja, Garnacha / Grenache and Kuntra wines.
Introducing
Nude Design Team
Nude Design Team fearlessly investigates innovative ideas. We are constantly inquisitive and work hard to develop dynamic collaborations with artists and designers. Nude contemporary collections are designed to fit seamlessly with modern life, perfect for special occasions and everyday use and always enchant the eye.