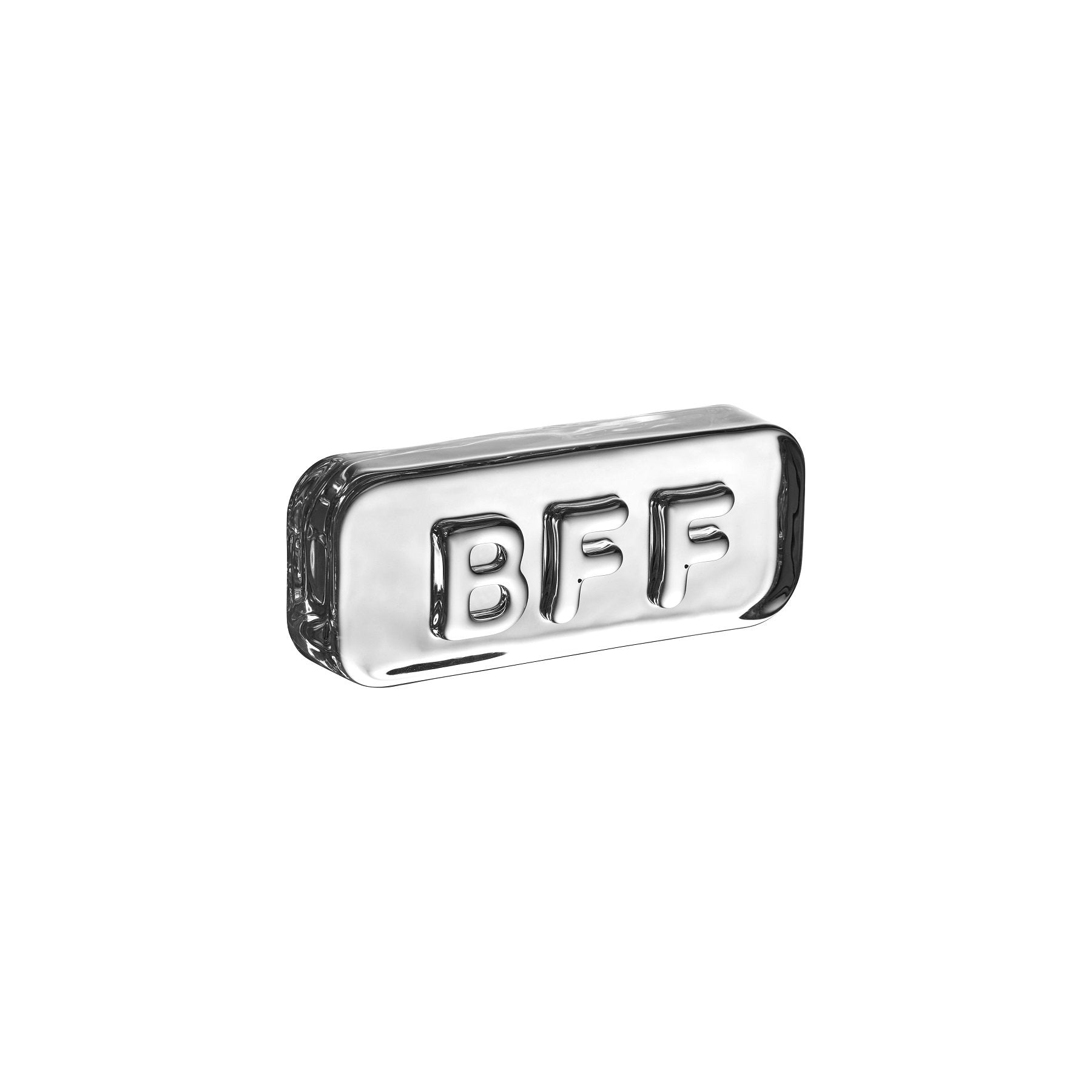 Design by Ayşe Birsel + Bibi Seck
Striking just the right balance between luxury and attitude, this Paroles Paroles paperweight by NUDE offers a simple form that lends itself to its straightforward function. Designed by Ayşe Birsel + Bibi Seck and carved from clear lead-free crystal, the playful "Bff" slogan engraved on its surface makes it an irreverent and irresistible modern must-have.
Height: 40 mm
Width: 164 mm
Depth: 64 mm
Material: Lead-free crystal
The mastery and craftsmanship of handmade glass is a signature of NUDE.
NUDE prides itself in its artisanal approach to glassware, specializing in handmade, pure crystalline glass, be the pieces blown or press-blown. With their Master blowers, NUDE continues to hand
make much of the world's most acclaimed glassware.
We recommend washing this product by hand using a soft sponge, brush or by hand.
Please avoid using the scourer side of the sponge as it will create scratching on the surface of the glass.
After hand washing, let the product dry. Finish cleaning by drying and polishing the product using a soft cloth, preferably microfiber.
INTRODUCING
Ayşe Birsel + Bibi Seck
Ayşe Birsel and Bibi Seck co-founded New York design studio Birsel + Seck and have been designing award-winning products for more than 20 years for Fortune 500 companies. A Fulbright Scholar with design degrees from Pratt Institute and the Middle East Technical University in Ankara, Turkey. She introduced her user-centered, humanistic creative process, Deconstruction: Reconstruction™ in a 2015 book, Design the Life You Love (Ten Speed Press), as well as workshops and podcasts. Born in Paris and raised between Paris, London and Dakar, Seck earned a Master's degree in industrial design from ESDI Paris and worked as lead designer at Renault for 12 years, guiding large design teams through complex problems and earning two Car of the Year awards. He founded Dakar Next, a design studio-laboratory in Senegal to bring good design practices to West Africa and showcase their economic value.