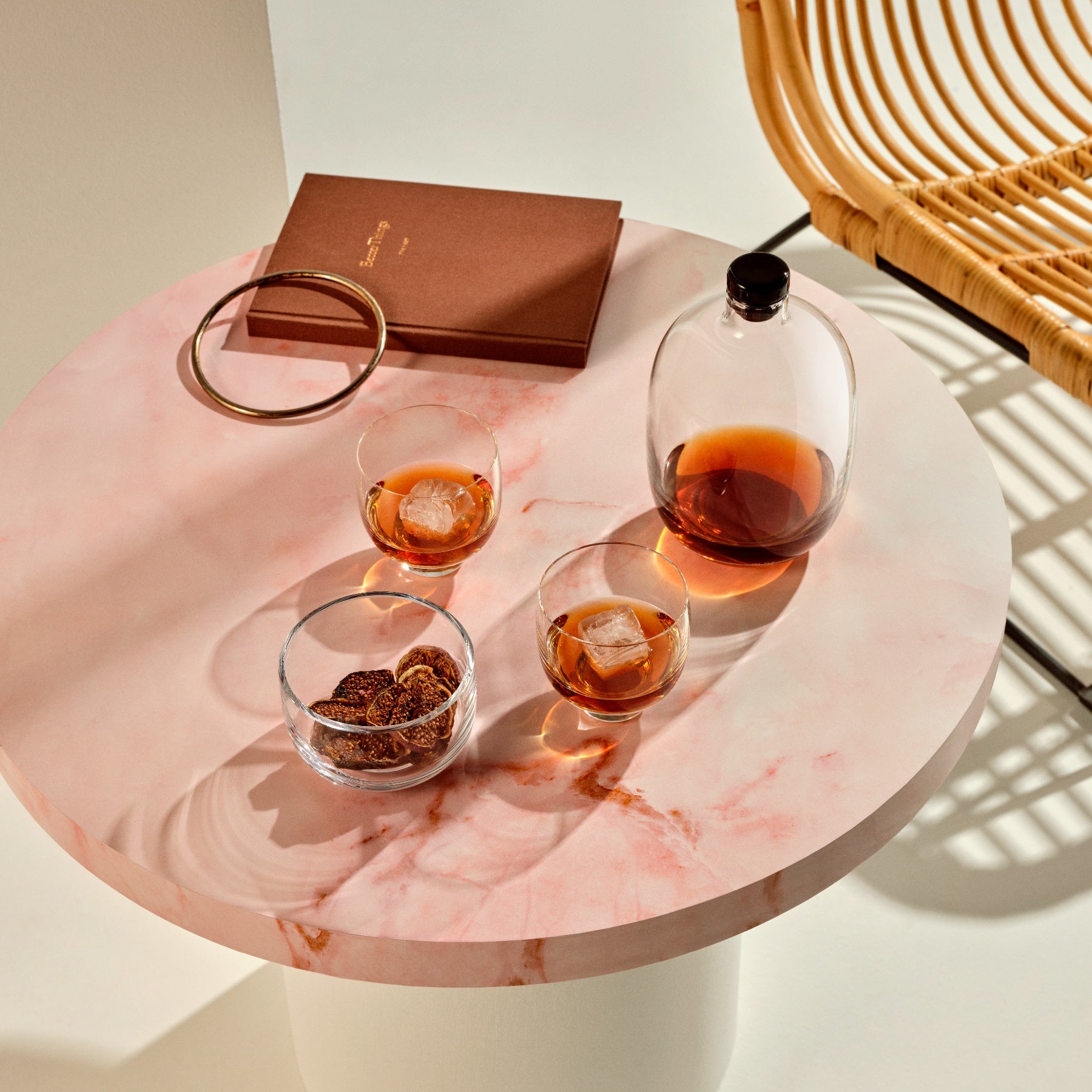 Design by Mikko Laakkonen
Whether you're building the ultimate home bar, searching for a gift or want to experience a truly special drink – this NUDE Malt whisky set is just the ticket. Comprising a carafe, two glasses and a serving bowl, each element has been designed by the Finnish creative studio, led by Mikko Laakkonen, and crafted from pure lead-free crystal. The result? NUDE's signature simplicity and Scandinavian refinement at their finest.
Whisky bottle
Capacity: 1100 cc
Height: 185 mm
Diameter: 115 mm
Whisky glass
Capacity: 260 cc
Height: 80 mm
Diameter: 80 mm
Bowl:
Capacity: 330 cc
Height: 61 mm
Diameter: 100 mm
Material: Lead-free crystal
The mastery and craftsmanship of handmade glass is a signature of NUDE.
NUDE prides itself in its artisanal approach to glassware, specializing in handmade, pure crystalline glass, be the pieces blown or press-blown. With their Master blowers, NUDE continues to hand
make much of the world's most acclaimed glassware.
We recommend washing this product by hand using a soft sponge, brush or by hand.
Please avoid using the scourer side of the sponge as it will create scratching on the surface of the glass.
After hand washing, let the product dry. Finish cleaning by drying and polishing the product using a soft cloth, preferably microfiber.
INTRODUCING
Mikko Laakkonen
Mikko studied furniture design at Kymenlaakso University of Applied Sciences, and later received his Masters degree from the University of Art and Design in Helsinki. After working in design and architecture firms for several years, Mikko founded Studio Mikko Laakkonen in 2004. He has been awarded the number of international and national prizes, including: Reddot design award honourable mention (2016), Chicago Athenaeum's Good Design Award (2015 & 2010), Muuuz International Awards 2014, Finnish Designer Awards '14: Furniture Designer Of The Year, Reddot: best of the best design award (2013) Reddot design award (2012), and the Young Designer of the Year prize (2009).